Lentas, Greece
For Sale
13,000,000€ - Investment Proposals, Land For Sale Greece
Waterfront Land For Hotel in Crete
Crete is the largest island in Greece, and the fifth largest one in the Mediterranean Sea, boasting a six months touristic period.
LOCATION
The site for the Project lies on the Southern coast of the Crete island.
The coastal Land Field  is located right on a beautiful and peaceful beach with small pebbles and turquoise waters near a quaint coastal village. It boasts awesome panoramic views of the picturesque coast and the Cretan Sea.
DISTANCE
A 70 km distance from the nearest international airport.
PARCEL OVERVIEW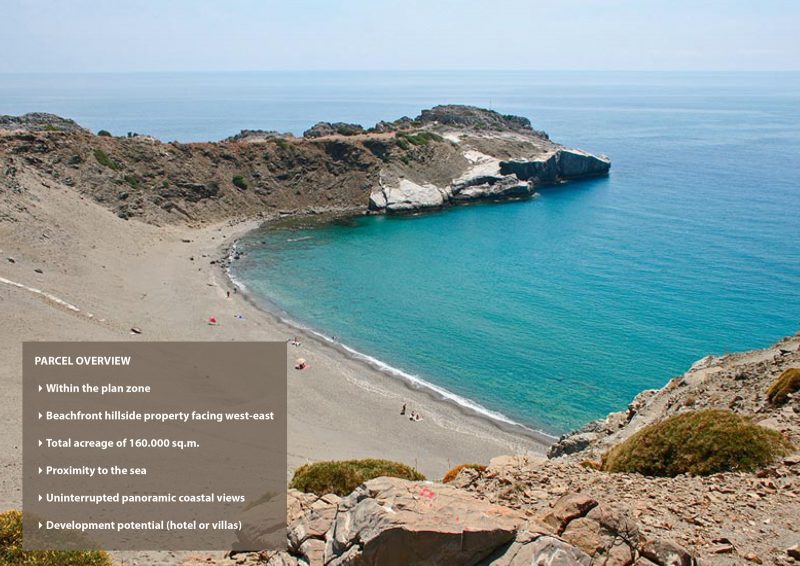 The parcel is divided into three (3) sections
The western side measures 54.900 sq.m. on a long seaside frontage. A 5 star Hotel of 10.985 sq.m. total building area – 370 beds total capacity can be constructed upon this piece of land. Planning permission has been granted for the construction a private Marina.
The eastern side measures 50.106 sq.m. and acquires a total building capacity of 10.021 sq.m. A planning permission for the construction of a 4 star Hotel with a 5.279 sq.m. total building area – 178 beds total capacity has been approved.
The third in-between hillside section of 38.000 sq.m. allows the construction of a 5 star Resort measuring 7.600 sq.m. total building area – 245 beds.
Thirty (30) stone bungalows, of excellent architectural style and quality, are already built on this particular site while there is a possibility of constructing an additional number of thirty (30) bungalows.
INVESTMENT PROJECT
The Plot's size and location allow for diverse development potential, including a Resort or holiday home village. Thanks to the property's prime location as well as the benefities of the broader region along with the exquisite microclimate, the particular Parcel can be proved to be an extremely profitable and speculative investment.
Land size : 160.000 m2
Distance from Airport : 75 km
An fantastic piece of development land of 160.000sq.m, located in the island of Crete.
The property is divided in 3 plots and can be purchased separately.
Plot of 50.160sq.m, located in the east side, with build capacity of 5.279 m2, an ideal place that can be used for tourist accommodation.
The project of a luxurious residential complex is already implements, the creation of 60 detached houses (half of them are already build) the other 30 houses, the commercial properties, the swimming pools and the restaurants are under construction. Another privilege is that the plot area has a marina planning permission.
Plot of 70.000sq.m, located in the west side,right on the seafront, build capacity of 10.000 sq.m. Has also a marina planning permission.
Plot of 38.000sq.m, lied in between the referred above, build capacity of 7.600 sq.m. An excellent additional for the other two plots, so an interesting business plan can be materialized.