Lachania, Rhodes, Aegean Greece
For Sale
550,000€ - Luxury Villas Greece, Villas for Sale Greece
Villa is in Rhodes Island, just 200 m from the beach.
Villa is in Rhodes Island, just 200 m from the beach. Property for Sale Rhodes Greece, Properties in Rodos Greece for Sale
The villa comprises 5 large bedrooms with 3 bathrooms, arranged in separate functional sections of the house. The total living area is about 300m².
It has a private outdoors parking area for 4 cars within the property, a shaded terrace with lovely view, a barbecue and a private swimming pool.
Living by the beach is to live a life of nature and beauty. The calming atmosphere created by the sea is an absolute must in today's world of high tech and constant stress.
Those that live by the beach soon find it becomes essential to their well-being and almost never leave!
Offering a private pool and a fitness center, this property is in Lachania Village, just 200 m from the nearest beach
Owning this beautiful, bougainvillea fronted villa would be no exception. It's lovely gardens, outside pergola covered terraces and private pool make for sociable, fun filled exteriors. Breakfasting by the pool, or enjoying an evening meal as the sun goes down over the sea are pleasures that never grow old.
With 5 bedrooms and 3 bathrooms this is a great place to retreat to with friends and family. Investing in this gorgeous home is to invest in a life style that will keep on paying dividends!
LAYOUT:
UPPER LEVEL:
The upper level includes two double bedrooms and a bathroom.
The master bedroom  has a double bed and enjoys a private sea view veranda well suited for an afternoon coffee or a relaxing evening under the starry Aegean sky. The room is spacious enough.The children's bedroom has two single beds and a sofa bed. This floor is served by its own bathroom
MIDDLE LEVEL:
The middle level includes the dining area, the living room, a fully equipped, modern and spacious kitchen, and a double bedroom with an accompanying bathroom.
The living room is equipped with a TV, and has a functional fireplace for winter time guests.
The kitchen is equipped.The main dining area it equipped with a large monastery style table and benches, suitable for 12.
The guest bedroom  has a double bed and a private sea view balcony.
GROUND LEVEL:
Ground level has a double bedroom and a self contained studio with en-suite bathroom.
The large bedroom is equipped with a double bed and a private sitting area with a sofa.
The studio  is furnished with a wide traditional Rhodian style wooden sofa bed with 2 double mattresses, able to accommodate a family with two young children or four children.
On this level there is also a home fitness center with a treadmill, a abdominal bench and a multi fitness.
This floor has it's own entertainment area with a TV, DVD player and sound system.
TERRACES & GARDEN:
The kitchen and living room have direct access to a lovely 40m² terrace that overlooks the garden and the sea. Shaded by a wide pergola and cooled by the sea breeze, the terrace is well suited for a wide range of everyday activities during the warm summer day, including an al fresco lunch cooked on the villa's barbecue grill.
The villa is surrounded by 2000 m² of garden with lawn and local decorative plants, and a 40.5 m² private swimming pool (4.5mx9.0m). On a relaxing day around the house, you can sunbathe in the garden, enjoy a refreshing dip in the pool with cocktails on the terrace.
Good food can be found in small tavernas nearby and Lindos is just a short drive away.
This home has everything you are looking for whether that be a holiday home or a place to stay more permanently.It is for sale furnished.
The scenic Lindos Town is 32 km away and Rhodes Town is at a distance of 72 km. Diagoras International Airport is 76 km away
Villa is in Rhodes Island, just 200 m from the beach. Property for Sale Rhodes Greece, Properties in Rodos Greece for Sale
VIDEO: Have a look of the island of Rhodes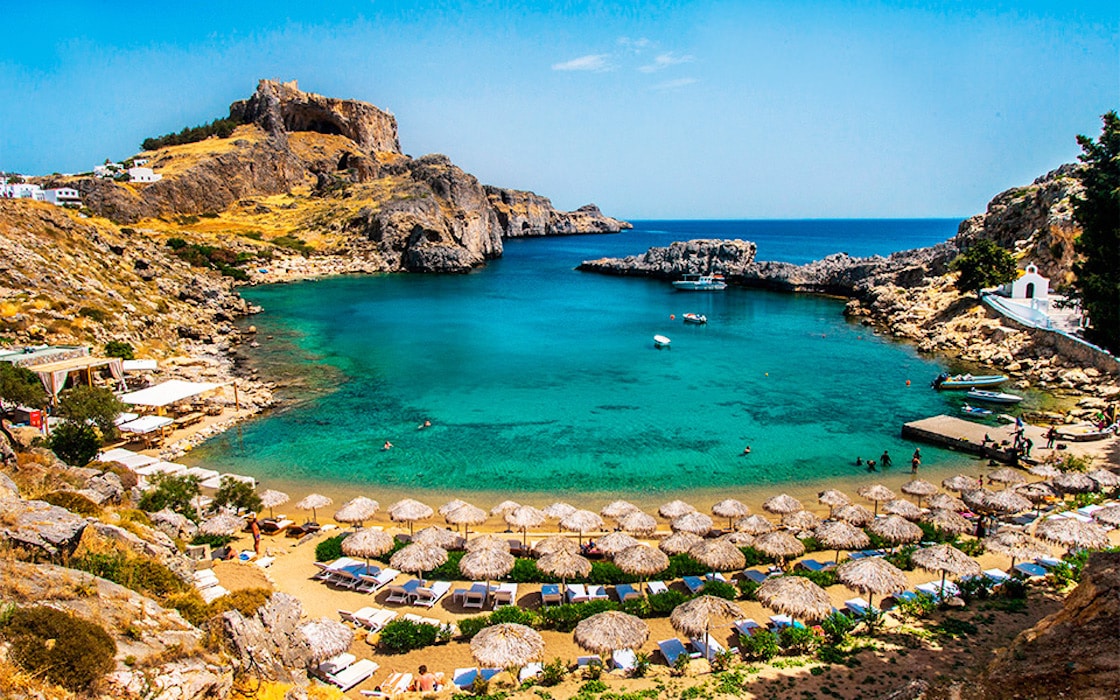 Rhodes island definitely is a first-class destination for your amazing summer escape.  Historically, Rhodes was famous worldwide for the Colossus of Rhodes, one of the Seven Wonders of the Ancient World. The medieval Old Town of the City of Rhodes has been declared a World Heritage Site. Today, it is one of the most popular tourist destinations in Europe.
Rhodes has it all: beaches, nightlife, beautiful landscapes, great hotels, historical monuments, cosy restaurants and an exceptionally mild and pleasant climate. Other than its natural and historical value, Rhodes receives a huge number of visitors every year also because of its extended summer season due to the warmer climate compared to the rest of the country.
Features