Ornos, Mykonos,Aegean Greece
For Sale
290,000€ - Apartments
Mykonos Island Sea View Apartment – Affordable Paradise
Discover the perfect opportunity to own a charming apartment on the beautiful island of Mykonos. Situated in a complex in Ornos, this delightful apartment offers you a slice of island life at an incredibly low price. The complex itself boasts its very own private beach, a refreshing pool, a welcoming restaurant, and a helpful reception.
Property Highlights:
🏝️ Nestled in the heart of Ornos, you'll find yourself just moments away from all that Mykonos has to offer.
🏡 The apartment features one cozy bedroom, but it comfortably accommodates up to 4 people. How? The living room sofas effortlessly convert into two single beds, perfect for guests.
🌊 Enjoy access to the complex's private beach, where you can soak up the sun and relax by the crystal-clear waters.
🏊 Take a refreshing dip in the shared pool, the ideal spot to cool off after a day of Mykonos exploration.
🍽️ Dine in style at the on-site restaurant, offering delectable cuisine just steps from your door.
🛎️ Benefit from the convenience of a reception, ensuring your stay is hassle-free.
Property Details:
Apartment Size: 37 sq.m.
Location: Agios Ioannis Diakoftis
Bedrooms: 1
Bathrooms: 1
Floor: 1st
Condition: Good
Year of Construction: 1990
Year of Renovation: 2015
Energy Class: A
View: Sea, Unobstructed
Furnished: Yes
This affordable Mykonos apartment is your ticket to experiencing the beauty and charm of the island. Whether you're looking for your own slice of paradise or a smart investment opportunity, this property is one you won't want to miss.
Don't wait to make this charming apartment your own! For inquiries and to schedule a viewing, please contact
VIDEO: Beaches of Mykonos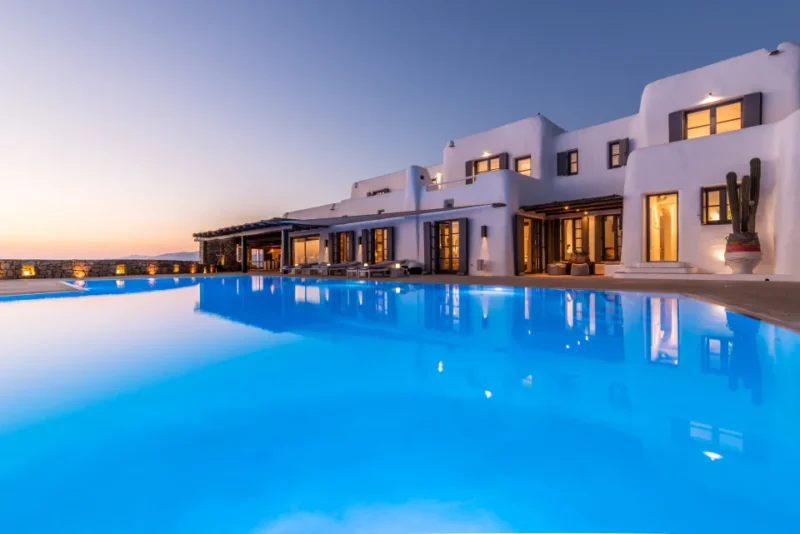 50 million euros: Record price for the most privileged villa in Mykonos
The famous hairdresser, Charles Worthington, who had bought the former villa of Petros Kostopoulos, is putting it up for sale at a price that, if achieved, would break every record on the Island of the Winds.
The idyllic island of Mykonos has established itself as the playground for the rich and famous, and in recent years, visitors have been flocking to this glamorous resort. The well-known hairdresser Charles Worthington is no exception, who has worked with celebrities such as Goldie Hawn, Sharon Stone, Lily James, Tracey Emin, but also Sarah Jessica Parker and Kim Cattrall. Worthington has been trying to sell his eight-bedroom mansion for €50m for a while now.
Business tycoon Charles Worthington is looking to sell an eight-bedroom villa on Mykonos, in what would be the biggest deal of its kind on the Greek island.
The 1.6-acre (6475 sq m) estate – situated on an island filled with luxury homes owned by the likes of US billionaire Todd Boehly – will go on sale for €50 million ($80 million) Τhe property is Charles Worthington, who built a fortune in celebrity hairdressing and sold his namesake beauty firm to consumer goods company PZ Cussons for about £37 million in 2004.
Features