Naxos, Aegean, Greece
For Sale
690,000€ - Hotels For Sale Greece
Apartments Hotel in Naxos Cyclades Greece
Apartments Hotel in Naxos Cyclades Greece, Hotel for Sale Greek Island Naxos.
Apartments Hotel in Naxos is very close to Chora, with apartments of 25 – 70 sq.m., with a total building area of 460 sq.m. and a plot of 800 sq.m.
Set in a stunning location on the outskirts of Naxos town, offering breathtaking views and scenery, 650m from St. George beach and close to amenities and shops and within easy strolling distance from the Square in the town.
It is a small complex of three levels consisting of one-room, two-room, and three-room apartments with their own storage.
The apartments are fully furnished, have a refrigerator and kitchen, and have air conditioning and electric heating.
Except for the studio, they have everything from a bedroom to an open space with a living room and kitchen and bathroom.
Consists of:
4 apartments (all with living room/kitchen, bathroom, 1 bedroom)
1 triple (living room/kitchen, 2 bathrooms, 2 bedrooms)
3 studios (in the garden)
6 studios (semi-basement – renovated with built-in beds)
Area of ​​apartments: 25-70 sq.m.
Garden & private parking
The property is for sale furnished as it is.
A very short distance from the beach and town center.
The location is quiet and close to all the famous beaches of Agios Georgios, Agios Prokopios, and Agia Anna.
There is a private car park as well as a supermarket and a bus stop at 250 m.
Mixed Operational Income 55-60.000€
Apartments Hotel in Naxos Cyclades Greece, Hotel for Sale Greek Island Naxos.
VIDEO: Τhe gorgeous beaches of Naxos Island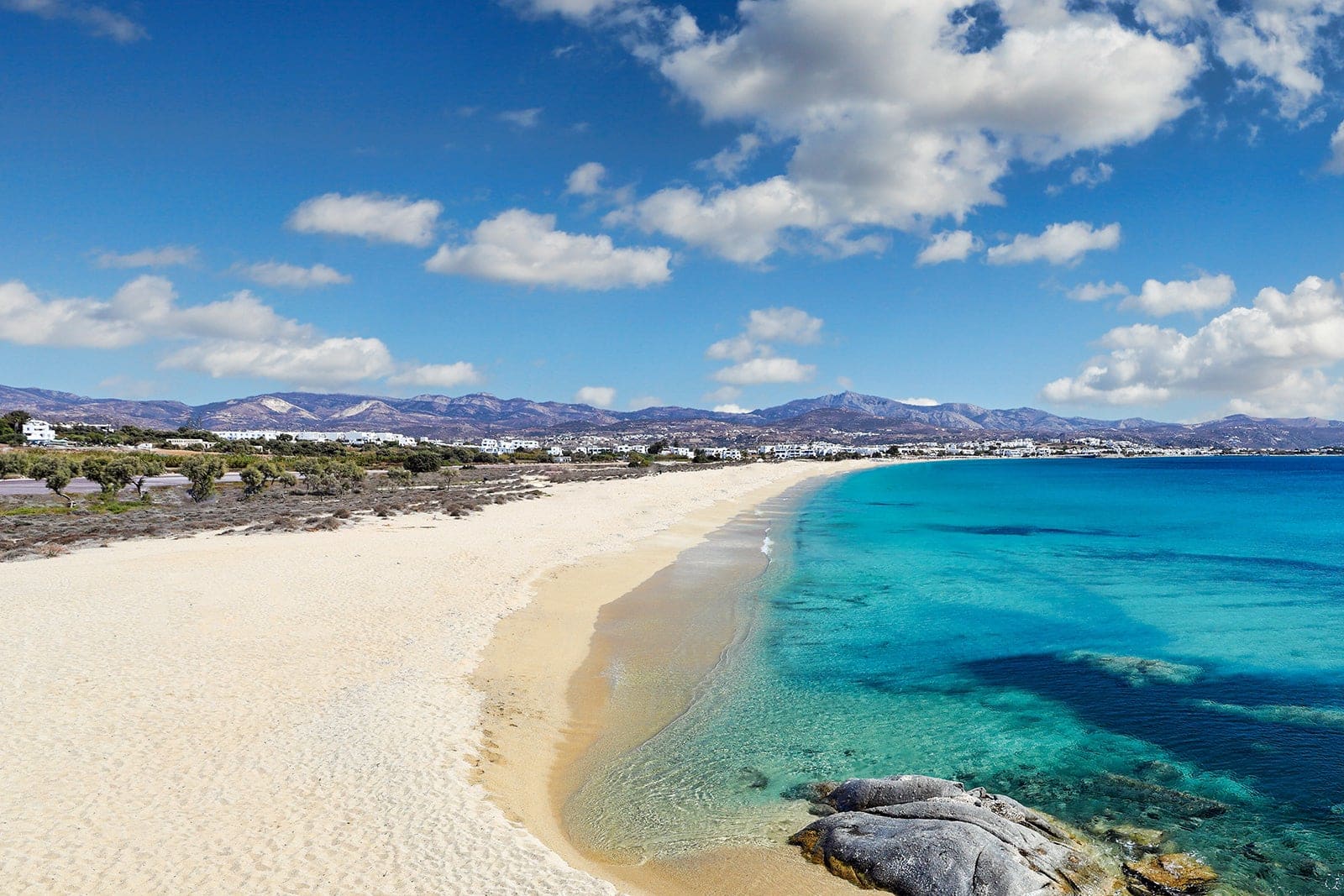 Located in the middle of the Cycladic complex of islands in the Aegean sea and between the popular destinations of Paros and Mykonos, lies Naxos, the largest island of the Cyclades.
Amazing beaches with shallow waters –Easy to get there by plane or ferry.

Because of its central location within the Cyclades, you can travel to Naxos both from Athens and from other islands effortlessly, with the island being accessible by ferry from Santorini, Mykonos, Paros, Amorgos, and Koufonisia.The airport of Naxos, 2km away from Naxos Town, operates domestic daily flights from Athens' airport Eleftherios Venizelos.
Delicious food, inviting people, stunning landscapes, family-friendly beaches, and a peaceful serenity spread across the island
Features