Lentas, Greece
For Sale
Contact us for Price - Investment Proposals, Land For Sale Greece
54.900 sq.m Waterfront Land for Hotel or Luxury Villas Complex with Private Marina, South Crete
Crete is the largest island in Greece, and the fifth largest one in the Mediterranean Sea, boasting a six months touristic period.
LOCATION
The site for the Project lies on the Southern coast of the Crete island.
The coastal Land Field  is located right on a beautiful and peaceful beach with small pebbles and turquoise waters near a quaint coastal village. It boasts awesome panoramic views of the picturesque coast and the Cretan Sea.
DISTANCE
A 70 km distance from the nearest international airport.
PARCEL OVERVIEW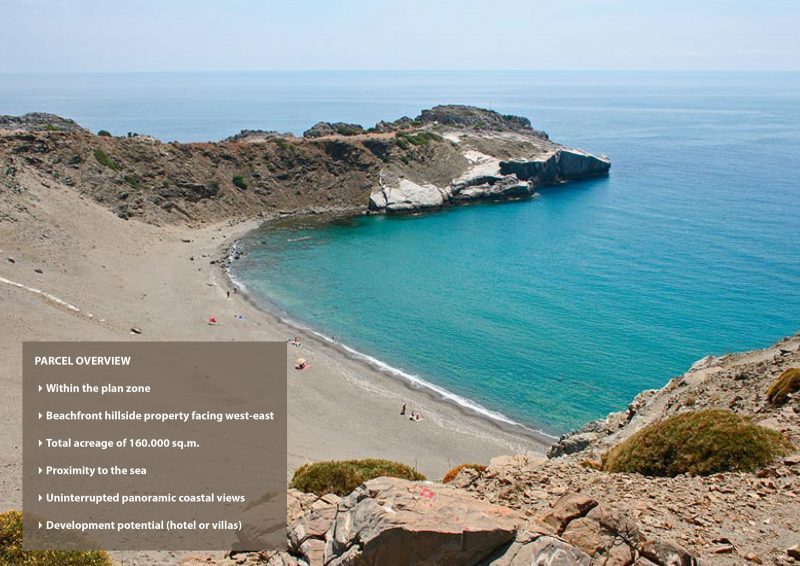 The parcel is divided into three (3) sections
 54.900 sq.m. on a long seaside frontage. A 5 star Hotel of 10.985 sq.m. total building area – 370 beds total capacity can be constructed upon this piece of land. Planning permission has been granted for the construction a private Marina.
INVESTMENT PROJECT
The Plot's size and location allow for diverse development potential, including a Resort or holiday home village. Thanks to the property's prime location as well as the benefits of the broader region along with the exquisite microclimate, the particular Parcel can be proved to be an extremely profitable and speculative investment.
Land size : 54.900 m2
Distance from Airport : 75 km
An fantastic piece of development land of 54.900sq.m, located in the island of Crete.