Sikinos, 840 10, Greece
For Sale
1,500,000€ - Hotels For Sale Greece
Traditional Hotel for Sale Sikinos Island Greece
Traditional Hotel for Sale Sikinos Island Greece, Hotel for Sale Greek Island, Hotel for sale Greece, Real Estate Greece
Beautiful hotel of 4.000 sq.m. In Sikinos is for sale just a few steps from the beach!
A seaside hotel on the island of Sikinos built on the slope of a hill which is divided into 6 levels.
The hotel is built according to the traditional architecture of the Cyclades islands and offers an intimate environment and a friendly atmosphere.
The 18 white rooms with the pink and blue windows are true representatives of the island-like architecture.
Every room is equipped with an en-suite bathroom, air conditioning, a refrigerator, music, TV, telephone, free Wi-Fi, and its own private terrace.
The hotel has a restaurant with an inviting veranda.
The hotel is located 30 metres from the beach, 100 metres from the closest port and close to public transport means. Only 10 minutes from the Chora (town). Built in a privileged spot, it makes it an ideal place for your holidays as it has the advantage of all the amenities you need as well as the peacefulness and tranquility required to take away and make you forget those stressful days!
Amazing, Ground floor, 6 Levels, 18 Rooms
Frames type: Wooden, Air Condition
View: Sea view, Balcony
Sikinos, is a beautiful unspoiled island, bare rocky with a gentle country in the south east. Quietness, great walks and crystal clear waters put Sikinos in picture. Sikinos is a place for quiet holidays away from crowd and noisy places. On Sikinos beaches you can spend unforgettable moments of relaxation full of sun and sea.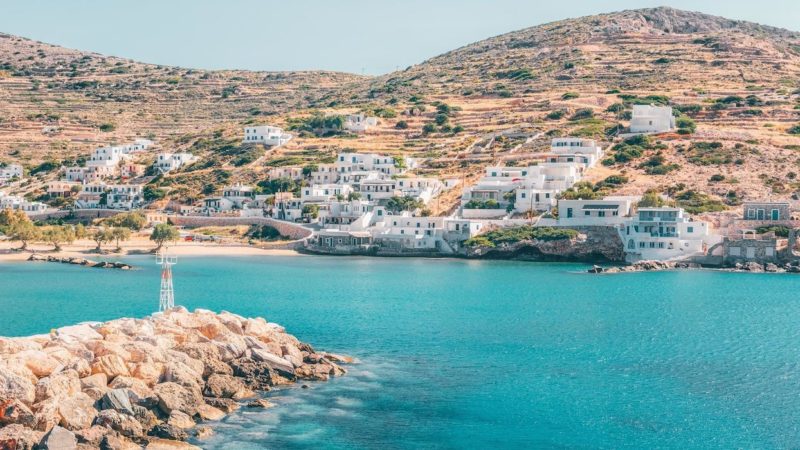 Features