Ornos, Mykonos, Aegean Greece
For Sale
600,000€ - Maisonettes in Greece, Property for Golden Visa in Greece, Villas for Sale Greece
Stunning Mykonos Maisonette: A Beachside Gem
Discover an exquisite Mykonos property for sale – a renovated, fully-furnished maisonette spanning two levels and covering a total area of 97 sq.m. Located just 50 meters from the shimmering sea, this exceptional beachside retreat is your key to island living.  this property offers a unique opportunity to make Mykonos your home.
Property Features:
Timeless Elegance: This maisonette, originally constructed in 2003 and expertly renovated in 2017, offers both a modern and timeless design.
Sunny and Spacious: Comprising three cozy bedrooms, a stylish living room with an open-plan kitchen, and three well-appointed bathrooms, this property is perfect for a family or those seeking comfort and luxury.
Modern Comforts: Enjoy the conveniences of aluminum window frames, a private garden, and a shared swimming pool, ensuring you can relax in style.
Additional Features: This maisonette also includes A/C units, electrical appliances, window screens, double-glazed windows, internal stairs, and charming balconies measuring 12 sq.m., perfect for enjoying the gentle sea breeze.
Location:
Nestled in Ornos Beach, you're only a 1-minute stroll from the pristine waters of the sea and less than 3 km from Mykonos Town. Whether you're seeking quiet relaxation or vibrant nightlife, this location caters to all ages and interests.
High-Quality Construction:
The property features high-quality external construction and Mykonian architecture with wooden logged ceilings, marble floors, and double-glazed windows and doors. It also offers access to a modern shared swimming pool.
Discover Mykonos:
From this Mykonos maisonette, you can embark on your island exploration. The property effortlessly blends traditional Cycladic architecture with contemporary interior design. Located in Ornos, it offers a peaceful haven while keeping you within easy reach of the lively Mykonos Town.
Ideal for Various Guests:
This property is an excellent choice for families with children, couples seeking a romantic getaway, and water sports enthusiasts, with Korfos Beach just a 5-minute walk away – perfect for kite surfing and wind surfing.
Comfort and Amenities:
The house accommodates up to 4-5 people, making it ideal for families. It offers a fully equipped kitchen, air conditioning, a dishwasher, flat-screen TV, washing machine.
The main bedroom features a queen-size double bed (170 cm width), while the loft (accessible via a stylish internal staircase) offers an additional double bed (140 cm width).
In the living room, there are two extra sofa beds.
Ornos Beach Paradise:
Ornos Beach is known for its fine sand, sun chairs, and umbrellas. Along the shore, you'll find a variety of restaurants and bars, along with essential amenities such as ATMs, bakeries, butcher shops, fish markets, supermarkets, and pharmacies.
Island Adventures:
If you wish to explore more of Mykonos, you can use local boats from Ornos Beach to visit other pristine beaches on the island. Additionally, boats departing from Mykonos old port offer daily trips to Delos Island, known for its rich archaeological treasures.
Korfos Beach Delight:
Korfos Beach, just a 5-minute walk from the maisonette, is a haven for kite surfing and wind surfing enthusiasts. Whether you're a seasoned pro or a newcomer to water sports, this beach offers a fantastic opportunity for active recreation.
Don't miss the chance to make this Mykonos maisonette your very own. Contact us today to schedule a viewing and secure your place in this idyllic island paradise.
VIDEO: Beaches of Mykonos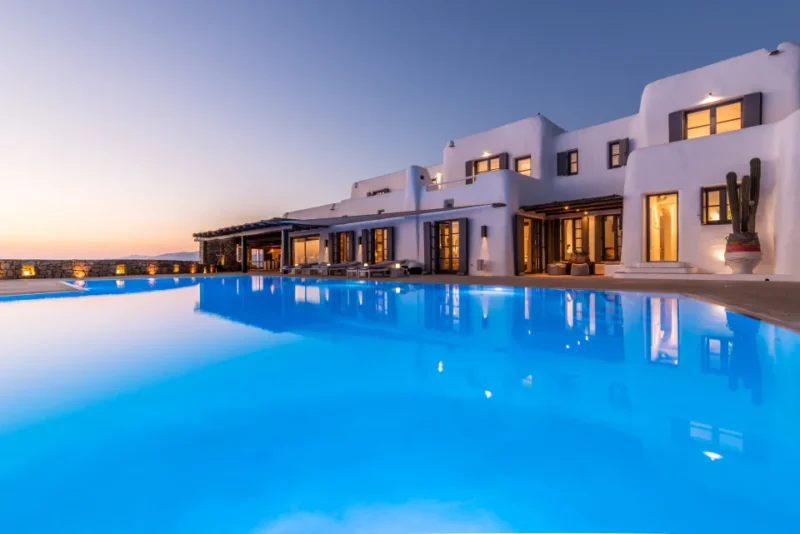 50 million euros: Record price for the most privileged villa in Mykonos
The famous hairdresser, Charles Worthington, who had bought the former villa of Petros Kostopoulos, is putting it up for sale at a price that, if achieved, would break every record on the Island of the Winds.
The idyllic island of Mykonos has established itself as the playground for the rich and famous, and in recent years, visitors have been flocking to this glamorous resort. The well-known hairdresser Charles Worthington is no exception, who has worked with celebrities such as Goldie Hawn, Sharon Stone, Lily James, Tracey Emin, but also Sarah Jessica Parker and Kim Cattrall. Worthington has been trying to sell his eight-bedroom mansion for €50m for a while now.
Business tycoon Charles Worthington is looking to sell an eight-bedroom villa on Mykonos, in what would be the biggest deal of its kind on the Greek island.
The 1.6-acre (6475 sq m) estate – situated on an island filled with luxury homes owned by the likes of US billionaire Todd Boehly – will go on sale for €50 million ($80 million) Τhe property is Charles Worthington, who built a fortune in celebrity hairdressing and sold his namesake beauty firm to consumer goods company PZ Cussons for about £37 million in 2004.
Features