Lindos, Rhodes Greece
For Sale 600,000€ - 900,000€ - Luxury Villas Greece, Villas for Sale Greece
Sea View Villas Rhodes Greece, Lindos
Sea View Villas Rhodes Greece, Lindos. Luxury Properties for Sale Rodos Greece, Luxury Villas Greek Islands
A perfect location to enjoy the Greek island lifestyle.
Drink in the picture postcard views everyday of endless blue seas and skies that soothe the soul and refresh the spirit. These contemporary villas are designed to appreciate life to the full.
There are three bedrooms, one having an ensuite bathroom and a further two modern designed bathrooms. The living area is open plan with the kitchen and dining space giving an airy and open quality to the interior, complimenting the neutral and cool tones of the tiles and walls.
Revel in the freedom of living outdoors, using the pool day or night, rustling up a b.b.q or simply relaxing with a good Greek wine on the comfy patio furniture.
Vlicha is a sought after area, being close to Lindos and some of the most beautiful unspoilt beaches on the island.
Available VILLAS: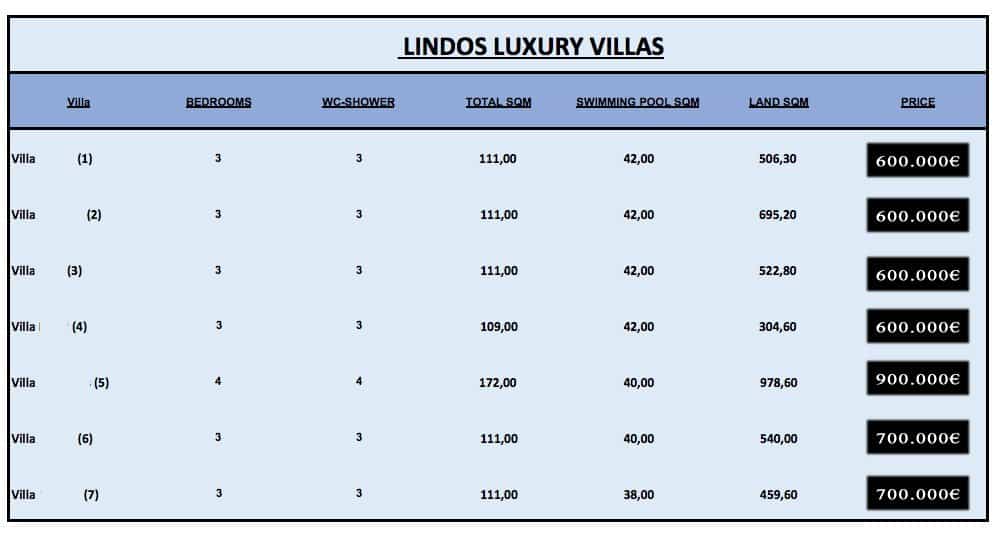 Description Villa No 1:
A modern newly built villa, 150sq.m, situated at Cavo lindos villa complex, overlooking Vliha bay. Located 2 km from Lindos Village it offers beautiful sunrises and an astonishing sea view terrace with a private pool.
The villa consists of 1 level and has 3 bedrooms (Queen size beds), 3 bathrooms, living room, open plan kitchen (fully equiped), pool area with a pergola and dinning area that includes a built in bbq.
Right outside the villa there is a secure , open air parking.
Constructed to the traditional Aegean architecture, on a beautiful hillside with a breathtaking seaview!
Area:
Nestling at the foot of a steep rock and beautifully surrounded by the sea lies the traditional settlement of Líndos; on the top of the same rock stands a centuries-old acropolis, proudly overlooking the archipelagos. The acropolis bears silent witness to Líndos' glorious past, a major naval power of ancient times which reputedly had a population of 17,000. The landscape of Líndos encapsulates the essence of Rhodes: a surprisingly felicitous blend of ancient and medieval! With 600,000 visitors annually, Líndos competes with Delphi as the second most visited archeological site in Greece
Sea View Villas Rhodes Greece, Lindos. Luxury Properties for Sale Rodos Greece, Luxury Villas Greek Islands
Features