Nikiana, Municipal Unit of Lefkada, Greece
For Sale
2,200,000€ - Luxury Villas Greece, Villas for Sale Greece
New Constructed seafront Villa in Lefkada
New Constructed seafront Villa in Lefkada, Buy Seafront Property Lefkada Island
The house is built across two levels, with a generous living area of over 280 sqm. The top floor covers almost 160 sqm and will house the reception areas, kitchen, and two bedrooms with ensuite bathrooms. This floor also features the pool, the main exterior lounge, and dining areas, all with ample space. The lower floor spans nearly 125 sqm and comprises four bedrooms, each with its own bathroom, storage area, and technical room. The two floors are not internally connected, ensuring maximum privacy.
This house takes full advantage of its prime location, offering a stunning view of the sea. The upper and lower terraces and dining areas, deck area, and pool provide a total of 318 sqm of outdoor space. Additionally, the Mediterranean landscaped garden and car parking bring the total property size to 653 sqm.
As villa rentals are a popular tourism offering in Lefkada, this house presents an excellent investment opportunity for such a business plan.
This exquisite house presents a delightful dilemma: shall one take a dip in the pool or the sea? Located on the first waterfront line, this property will be completed and available by the summer of 2023.
Distance from the sea: 10m
New Constructed seafront Villa in Lefkada, Buy Seafront Property Lefkada Island
VIDEO: Beautiful Beaches of Lefkada Island Ionio Greece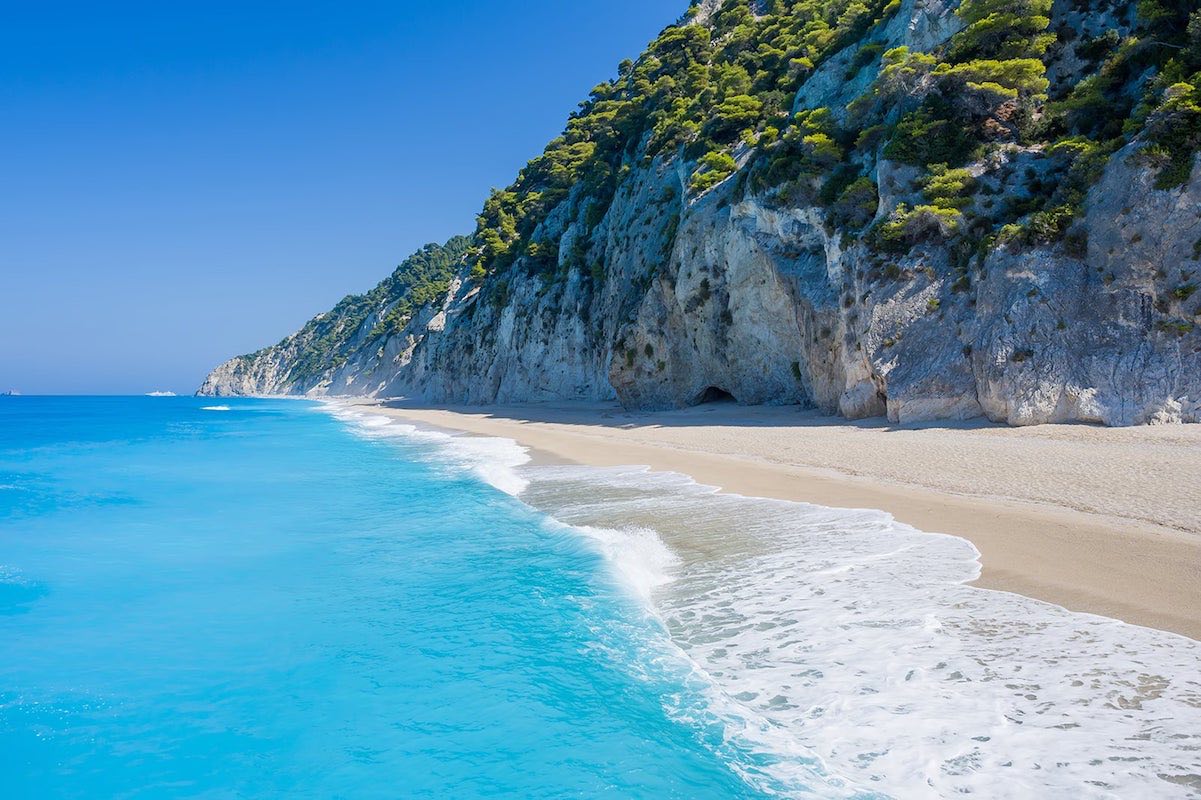 The Ionian island Lefkada is the nearest one to the western side of the Greece mainland and it can even be reached by car, via a bridge!
One of the most popular Ionian destinations, full of amazing beaches with turquoise waters, monasteries, museums and seafront or mountainous villages with a unique charm.
The nearest airport to Lefkada is Aktion National Airport.
Known for the amazing landscape and the exotic water, beaches in Lefkada are considered among the most beautiful in Greece but also in the Mediterranean Sea.
Surrounded by amazing coasts, most of Lefkada's beaches have been awarded the Blue Flag for their cleanliness and are famous for their beautiful scenery.
The coasts of Lefkada is a true paradise, for lovers of sandy beaches and pleasant greenery while being ideal for snorkeling.
Meganisi is a picturesque island of the Ionian sea, 4 nautical miles southeast of Lefkada.
The traditional architecture,  the magnificent sceneries, the picturesque bays with the fish taverns, the restaurants and entertainment shops, the splendid view, the green landscapes, and the crystal waters, create an ideal place.