Lefkada, Greece
For Sale
2,200,000€ - Luxury Villas Greece, Villas for Sale Greece
New Constructed Sea View villa with swimming pool for sale in Lefkada
New Constructed Sea View villa with swimming pool for sale in Lefkada
This house boasts exceptional ingenuity in its design and will be constructed by a top developer on the Ionian Islands. With a single level, it is ideal for hosting large gatherings of family and friends, or even for solo getaways, and can also be rented to high-end tourists.
The property consists of three separate units accessible by a paved path. On the left are three bedrooms and three bathrooms, while on the right there are two bedrooms, two bathrooms, a reception area, a guest WC, and a sauna. At the end of the path, the main house awaits with a kitchen, reception area, and a master bedroom complete with an en-suite bathroom. The pool and deck run the entire length of the house, offering the option to relax in the heated jacuzzi or swim laps in the pool.
The outdoor living areas are cleverly spread around the house at different levels, allowing for maximum use and enjoyment of Greece's beautiful climate. With stunning views over Sivota Bay, one of the island's most breathtaking sights, this property is truly a slice of paradise.
Lefkada, often called the Greek Caribbean for its crystal-clear turquoise waters, remains a hidden gem located on the western coast of Greece. Accessible via a floating bridge by car, the nearest international airport, Alkion Airport, is only a 30-minute drive away and offers direct flights from various European cities. The completion of the motorway connecting Lefkada to Athens in under three hours is anticipated by summer 2023.
New Constructed Sea View villa with swimming pool for sale in Lefkada
VIDEO: Beautiful Beaches of Lefkada Island Ionio Greece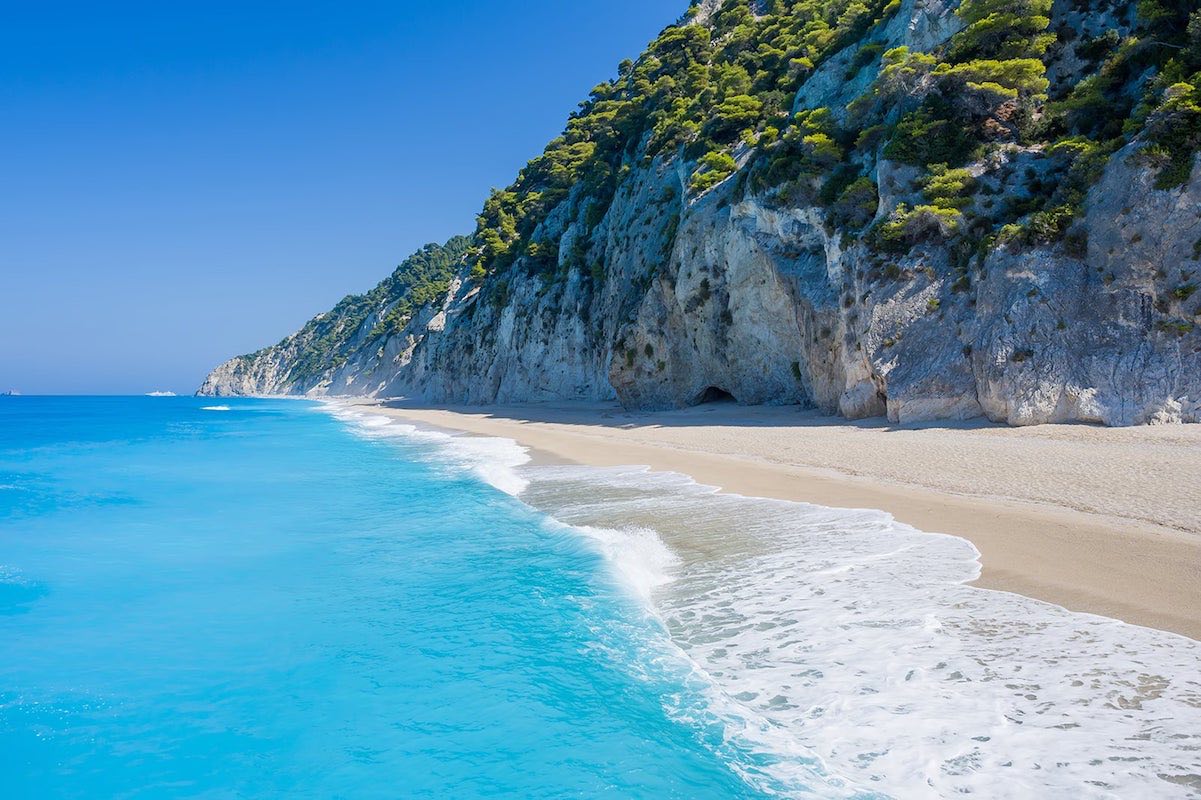 The Ionian island Lefkada is the nearest one to the western side of the Greece mainland and it can even be reached by car, via a bridge!
One of the most popular Ionian destinations, full of amazing beaches with turquoise waters, monasteries, museums and seafront or mountainous villages with a unique charm.
The nearest airport to Lefkada is Aktion National Airport.
Known for the amazing landscape and the exotic water, beaches in Lefkada are considered among the most beautiful in Greece but also in the Mediterranean Sea.
Surrounded by amazing coasts, most of Lefkada's beaches have been awarded the Blue Flag for their cleanliness and are famous for their beautiful scenery.
The coasts of Lefkada is a true paradise, for lovers of sandy beaches and pleasant greenery while being ideal for snorkeling.
Meganisi is a picturesque island of the Ionian sea, 4 nautical miles southeast of Lefkada.
The traditional architecture,  the magnificent sceneries, the picturesque bays with the fish taverns, the restaurants and entertainment shops, the splendid view, the green landscapes, and the crystal waters, create an ideal place.
Features