Kathisma, Lefkada Greece
For Sale
1,500,000€ - Luxury Villas Greece, Villas for Sale Greece
Luxury Villa for sale in Lefkada Greece
Luxury Villa for sale in Lefkada Greece, Properties for Sale Lefkada Greece
The villa has 6 bedrooms each with a private bathroom. Divided into 2 separate floors
The ground floor has 1 twin bedroom with an en-suite shower room and access to the pool terrace, 1 double bedroom with en-suite shower room and 1 twin bedroom with a separate bathroom with a bubble bath. A large modern open kitchen is equipped with a freezer, fridge, ice maker, ceramic hob, microwave, double sink and dishwasher.  The dining room can seat 12 persons and has direct access to the pool terrace.
The first floor offers 1 twin bedroom with access to the terrace and with a separate shower room, 1double bedroom with en-suite shower room and 1 double bedroom with en-suite bathroom with bathtub. On this level, you will find the saloon area with cozy settees, television, and a mini-bar. A big sun terrace overlooking the pool and turquoise waters of Kathisma beach completes this level. The entire house is air-conditioned/heated, and all windows have insect screens and shutters
The nearest-by village is Agios Nikitas, at about 2 km. Here you can find restaurants, bars, shops, and small supermarkets. It is a very animated village.
Less than 1 km from Mylos Beach and 16 km from Egremnoi Beach,
– 5 min walk to Beach.
Kathisma Beach is 300 meters from Villa
Luxury Villa for sale in Lefkada Greece, Properties for Sale Lefkada Greece
VIDEO: Beautiful Beaches of Lefkada Island Ionio Greece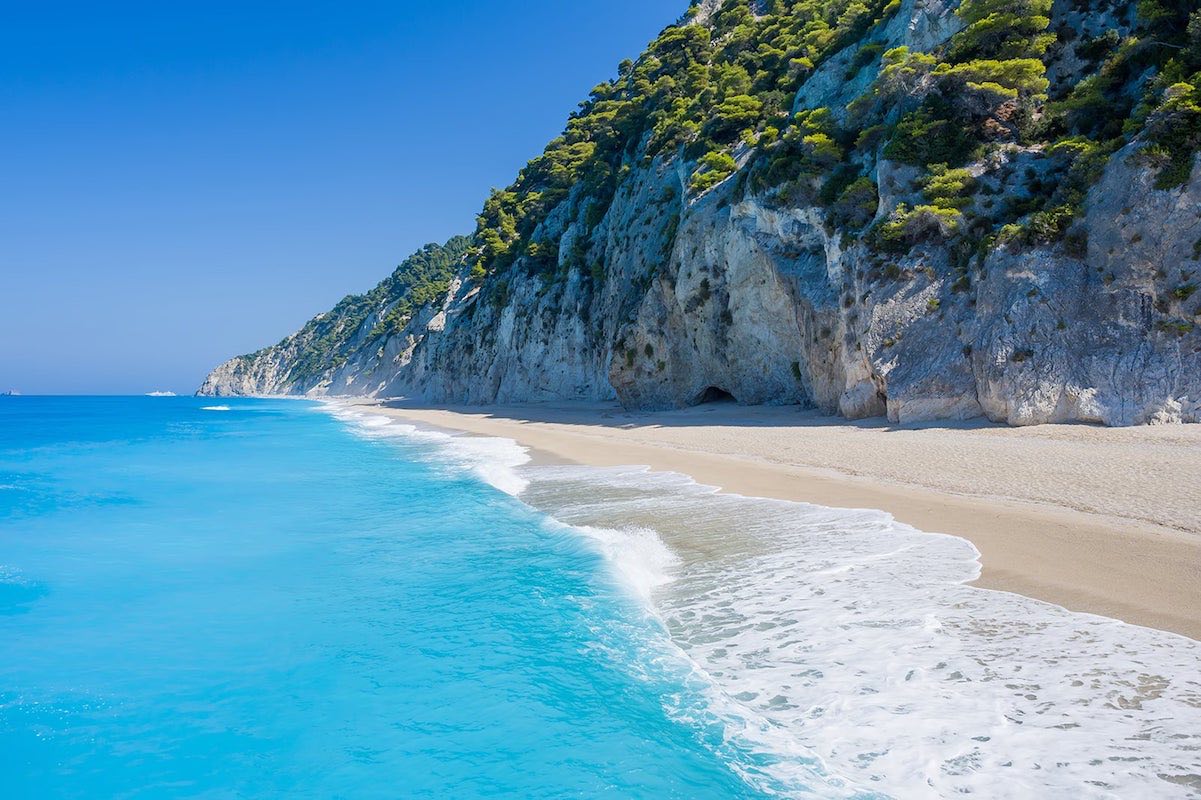 The Ionian island Lefkada is the nearest one to the western side of the Greece mainland and it can even be reached by car, via a bridge!
One of the most popular Ionian destinations, full of amazing beaches with turquoise waters, monasteries, museums and seafront or mountainous villages with a unique charm.
The nearest airport to Lefkada is Aktion National Airport.
Known for the amazing landscape and the exotic water, beaches in Lefkada are considered among the most beautiful in Greece but also in the Mediterranean Sea.
Surrounded by amazing coasts, most of Lefkada's beaches have been awarded the Blue Flag for their cleanliness and are famous for their beautiful scenery.
The coasts of Lefkada is a true paradise, for lovers of sandy beaches and pleasant greenery while being ideal for snorkeling.
Meganisi is a picturesque island of the Ionian sea, 4 nautical miles southeast of Lefkada.
The traditional architecture,  the magnificent sceneries, the picturesque bays with the fish taverns, the restaurants and entertainment shops, the splendid view, the green landscapes, and the crystal waters, create an ideal place.
Features