Elia 846 00, Greece
For Sale
620,000€ - Villas for Sale Greece
2 Levels House with sea view in Mykonos, Elia Beach
House with sea view in Mykonos, Mykonos Houses, Mykonos Properties, Real Estate Mykonos Greece
House with sea view in Mykonos, The maisonette is located in a complex of houses with spectacular views of the beach of Elia.
It is angular and develops on 2 levels. The entrance is from the 1st floor, but it can also be from the ground floor.
The ground floor consists of the large living room, the kitchen, 1 bedroom, 1 bathroom and a small storage room. At this level, there is a large garden of about 50 sqm on the sea side. A small swimming pool can be constructed here. Pool construction is not included in the price.
The first floor consists of 2 bedrooms and 1 bathroom. One bedroom has a small balcony overlooking the sea, while the other bedroom has a large covered terrace overlooking the sea and the surrounding hills.
Size: 120 sqm
2 levels
3 bedrooms
2 bathrooms
Year of construction: 2010
1 parking
VIDEO: Beaches of Mykonos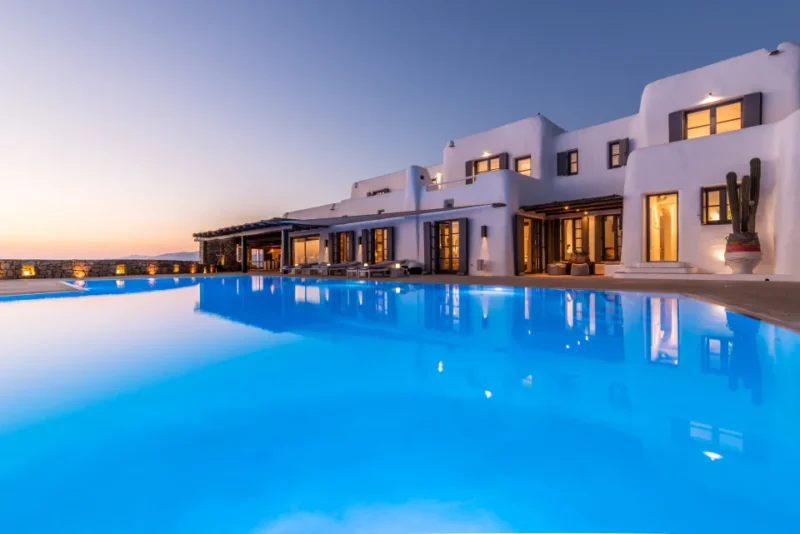 50 million euros: Record price for the most privileged villa in Mykonos
The famous hairdresser, Charles Worthington, who had bought the former villa of Petros Kostopoulos, is putting it up for sale at a price that, if achieved, would break every record on the Island of the Winds.
The idyllic island of Mykonos has established itself as the playground for the rich and famous, and in recent years, visitors have been flocking to this glamorous resort. The well-known hairdresser Charles Worthington is no exception, who has worked with celebrities such as Goldie Hawn, Sharon Stone, Lily James, Tracey Emin, but also Sarah Jessica Parker and Kim Cattrall. Worthington has been trying to sell his eight-bedroom mansion for €50m for a while now.
Business tycoon Charles Worthington is looking to sell an eight-bedroom villa on Mykonos, in what would be the biggest deal of its kind on the Greek island.
The 1.6-acre (6475 sq m) estate – situated on an island filled with luxury homes owned by the likes of US billionaire Todd Boehly – will go on sale for €50 million ($80 million) Τhe property is Charles Worthington, who built a fortune in celebrity hairdressing and sold his namesake beauty firm to consumer goods company PZ Cussons for about £37 million in 2004.
Features