Lefkada, Ioanian Greece
For Sale
3,500,000€ - Hotels For Sale Greece, Luxury Villas Greece, Villas for Sale Greece
Resort of 3 villas on Lefkada for Sale
Villas on Lefkada for Sale, Villas for Sale in Greece Lefkada island
This exclusive resort, located in a picturesque Mediterranean setting surrounded by mature olive trees and cypresses, is just a short walk from one of the most beautiful beaches near Lefkada town. It offers privacy, comfort, and easy access to local amenities. The complex comprises three high-quality villas, each with its own pool, garden, and spectacular views of the sea.
The villas are strategically positioned on different levels of a 4,129 m² plot of land and have been designed to the highest standards with respect for the natural environment. Local architectural elements are seamlessly integrated with a minimalist concept and warm colors, creating welcoming and functional spaces. Each villa offers a living room with a fireplace, a dining area, a fully equipped kitchen with Italian furniture, and a WC. All bedrooms are ensuite.
Large glass doors connect the interior spaces with the outside terraces, which are ideal for al fresco experiences. The infinity pools offer breathtaking views of the sea, and the surrounding gardens are filled with colorful flowers and aromatic herbs, providing privacy and seclusion. A private alley shaded by cypress trees leads to the beach, which is just a three-minute stroll away.
The resort's perfect proximity to Lefkada town and the beach of Agios Ioannis makes it an ideal investment opportunity or a perfect holiday home for family and friends. Additionally, neighboring land is available for sale.
Villas on Lefkada for Sale, Villas for Sale in Greece Lefkada island
VIDEO: Beautiful Beaches of Lefkada Island Ionio Greece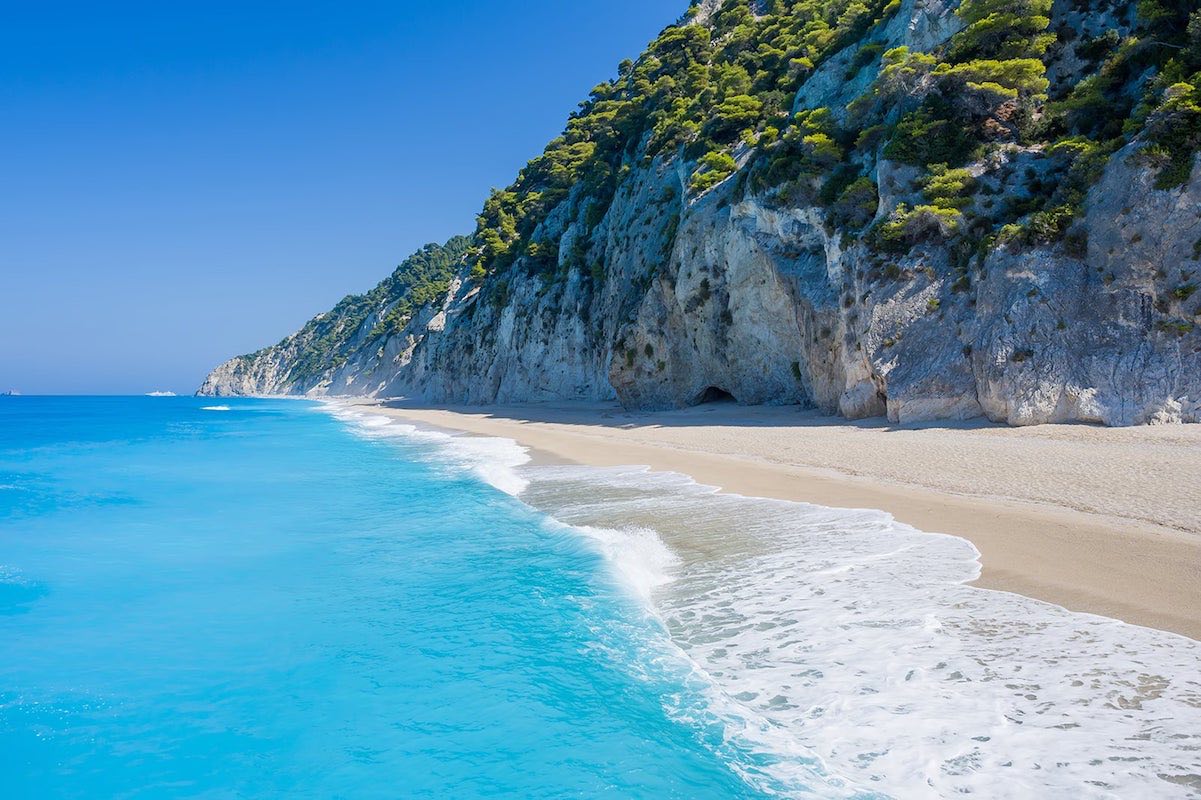 The Ionian island Lefkada is the nearest one to the western side of the Greece mainland and it can even be reached by car, via a bridge!
One of the most popular Ionian destinations, full of amazing beaches with turquoise waters, monasteries, museums and seafront or mountainous villages with a unique charm.
The nearest airport to Lefkada is Aktion National Airport.
Known for the amazing landscape and the exotic water, beaches in Lefkada are considered among the most beautiful in Greece but also in the Mediterranean Sea.
Surrounded by amazing coasts, most of Lefkada's beaches have been awarded the Blue Flag for their cleanliness and are famous for their beautiful scenery.
The coasts of Lefkada is a true paradise, for lovers of sandy beaches and pleasant greenery while being ideal for snorkeling.
Meganisi is a picturesque island of the Ionian sea, 4 nautical miles southeast of Lefkada.
The traditional architecture,  the magnificent sceneries, the picturesque bays with the fish taverns, the restaurants and entertainment shops, the splendid view, the green landscapes, and the crystal waters, create an ideal place.
Features