Rhodes, Aegean, Greece
For Sale
Reduced to 2,500,000€ - Luxury Villas Greece, Villas for Sale Greece
Luxury Home in Rhodes for sale
Luxury Home in Rhodes for sale, Rhodes Island Greece. Luxury Properties Rhodes Greece, Real Estate Rodos Greece. Exclusive Villas in Greece
A dazzling, effervescent home, set in such pristine surroundings that visitors will simply not want to leave! Sleek and modern architecture with a glistening white facade and terracotta tiles is offset by elegant dining veranda and sparkling pool.
This vibrant home is executed impeccably by stylish outdoor living; the pool area offers sedate loungers and elegant parasols, whilst the verdant lawns provide the luscious shade of fragrant fruit trees. With both mountain and sea views, and just a short drive into downtown Rhodes Town, this home is ideally located.
Impeccably maintained, there are ample spots to enjoy the outdoors, whether it be relaxing with a good book; a poolside cocktail; games on the lawns, or morning coffee on the balcony whilst admiring the views.
Dining is an elegant affair at  Mansion- whilst indoor and outdoor living blend seamlessly via floor to ceiling glass windows from a sumptuous lounge and living space to the dappled terrace with blossom plants leaving their scent in the air. The interiors are fresh, airy and neutral offering serene, distinguished decor, sleek marble floors, earthy tones amid glossy blacks and decadent ceiling height with designer lighting and mezzanine level.
All the modern touches are in place: satellite television, DVD player (as well as 3D glasses!), and pool table to ensure all of the guest's entertainment needs are met, whilst chic accents of teal and cobalt blue contrast with the dazzling whites and golds. The subdivisions in areas mean a group can break up into small groups, to enjoy a drink at the sleek bar, or curl up on the sofa for a movie.
There is a separate self-catered private wing with both a double and single bed and self-contained facilities on the ground floor: ideal for two families traveling together or a family with grandparents or au pair, for additional privacy.
In addition, there are three double bedrooms on the first floor each with its own private balcony and garden views, as well as an indulgent mezzanine lounge and abundant relaxation space. This home is truly a place where guests can arrive and recline, safe in the knowledge that every detail and comfort has been covered!
Each of the luxurious three double bedrooms on the first floor is accented by its own vivid color palette, offering hotel grade quality fittings along with abundant character and designer flair! Whether it be pistachio greens, brooding charcoals, or nautical blues, guests will have fun selecting their abode.
Fabulous location offering proximity to the sea, mountains, islands, small-town life as well as the bustling and vibrant Rhodes Town
Luxury Home in Rhodes for sale, Rhodes Island Greece. Luxury Properties Rhodes Greece, Real Estate Rodos Greece. Exclusive Villas in Greece
VIDEO: Have a look of the island of Rhodes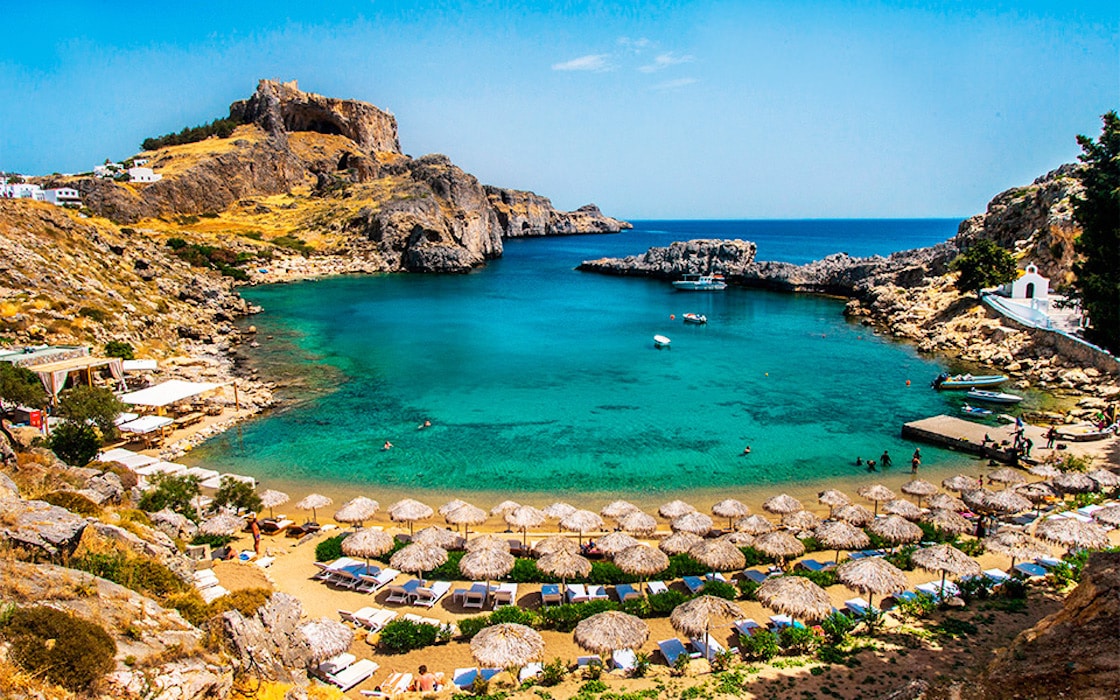 Rhodes island definitely is a first-class destination for your amazing summer escape.  Historically, Rhodes was famous worldwide for the Colossus of Rhodes, one of the Seven Wonders of the Ancient World. The medieval Old Town of the City of Rhodes has been declared a World Heritage Site. Today, it is one of the most popular tourist destinations in Europe.
Rhodes has it all: beaches, nightlife, beautiful landscapes, great hotels, historical monuments, cosy restaurants and an exceptionally mild and pleasant climate. Other than its natural and historical value, Rhodes receives a huge number of visitors every year also because of its extended summer season due to the warmer climate compared to the rest of the country.