Ορκός, Νάξος, 84300, Greece
For Sale
1,600,000€ - Luxury Villas Greece, Villas for Sale Greece
Luxury Detached House for sale in Naxos
Luxury Detached House for sale in Naxos, Luxury Estate Greece, Luxury Villas in Greek Islands, Property in Naxos Greece
This -2016 build- brand new iconic villa of Naxos, is a thoughtful fusion of high-end luxury and architectural ingenuity that respects the unique morphology of the famous Orkos area, offering complete privacy and thrilling Aegean views.
Size: 149 sqm
Bedrooms 4
Bathrooms 4
Built 2016
Located on the beautiful island of Naxos.
Situated by the seaside, this luxurious home is within walking distance of the white-sanded beaches of Mikri Vigla and Plaka, as well as a plethora of restaurants and coffee shops.
It is simple, chic, serene, and nestled in a flamboyant environment, the very definition of luxury. It also remains quiet and completely private. As you would imagine, a popular choice among celebrities. Due to its elevated position, it gives an absolutely incredible view of the Aegean Sea, while remaining less than 200m from one of the most beautiful beaches on the island.

Engulfed in cedar trees and white sands is the ultimate summer haven for water sporting, afternoon walks, and evening getaways.

This estate features four bedrooms, each with its own en-suite bathroom and an impeccable top-deck Infinity pool overlooking the breathtaking Aegean horizon.
The dining area, located by the pool, is the perfect aperitif for your afternoon meals, turning your dining experiences into unforgettable moments.

Let the fresh sea breeze invigorate your senses and indulge yourself in the highest standard of Naxos' most luxurious homes.
In the southwest of Naxos and boasts an unobstructed view which is highlighted by the villa's signature private pool; built on the unique Orkos slope. Only 230 meters away from the sandy Orkos beach yet wonderfully protected in privacy, the Villa's design and architecture respect the morphology of its environment, offering a promising glimpse of the authentic character of Naxos.
VIDEO: Τhe gorgeous beaches of Naxos Island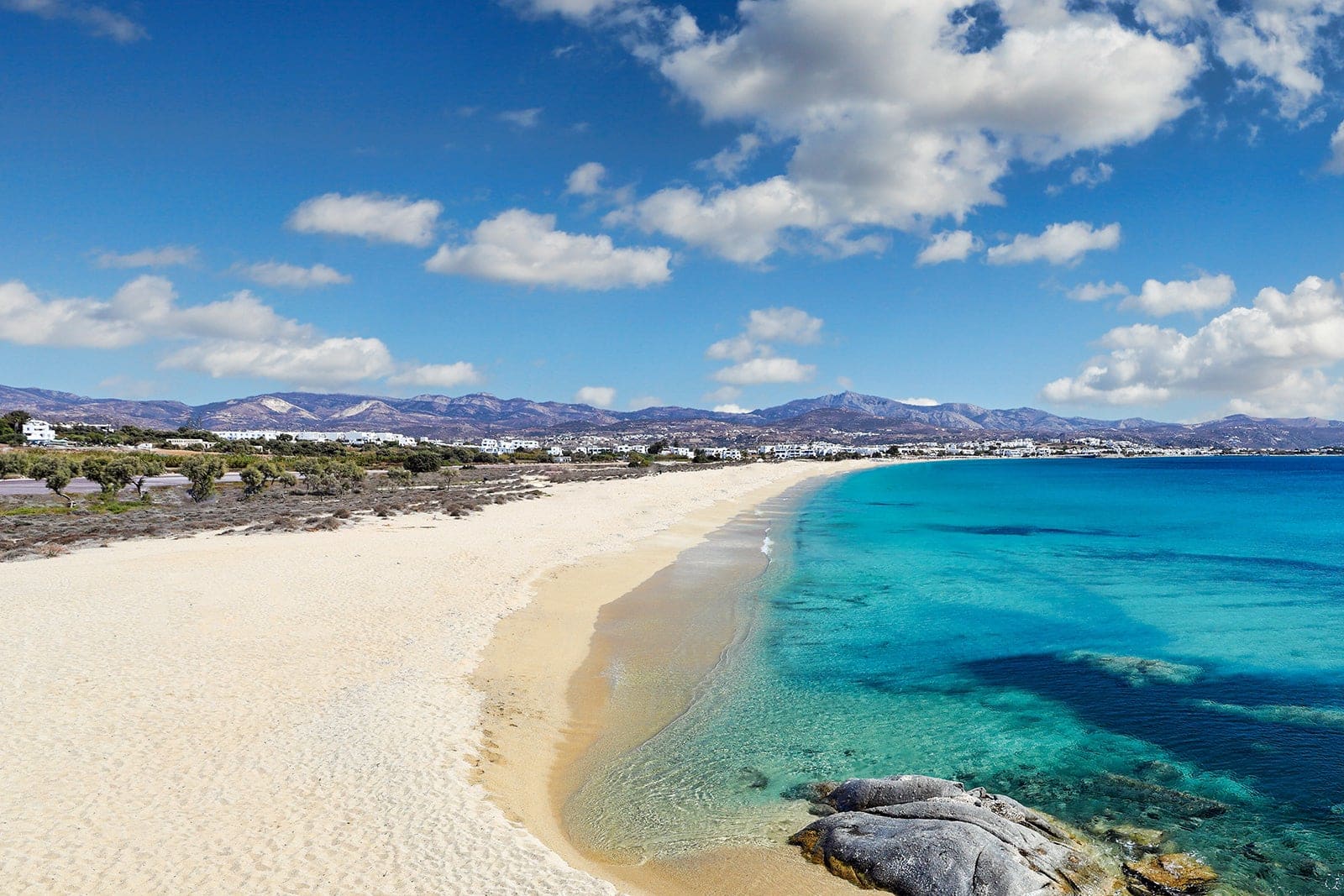 Located in the middle of the Cycladic complex of islands in the Aegean sea and between the popular destinations of Paros and Mykonos, lies Naxos, the largest island of the Cyclades.
Amazing beaches with shallow waters –Easy to get there by plane or ferry.

Because of its central location within the Cyclades, you can travel to Naxos both from Athens and from other islands effortlessly, with the island being accessible by ferry from Santorini, Mykonos, Paros, Amorgos, and Koufonisia.The airport of Naxos, 2km away from Naxos Town, operates domestic daily flights from Athens' airport Eleftherios Venizelos.
Delicious food, inviting people, stunning landscapes, family-friendly beaches, and a peaceful serenity spread across the island
Features