Lefkada, Greece
For Sale
2,800,000€ - Hotels For Sale Greece, Investment Proposals, Luxury Villas Greece, Villas for Sale Greece
Complex of 6 Villas for Sale Lefkada Greece
Villas for Sale Lefkada Greece, Hotel for Sale Lefkada Island.
For sale is a complex of 6 newly built villas with a total area of ​​900 sq.m. on a plot of 5000 sq.m.
The villas are built amphitheatrically across the verdant hill of Apolpaina on two levels, offering a captivating view.
Located in one of the most sought-after areas of Lefkada and due to its privileged location has an excellent view of the city of Lefkada, the beach of Ai Giannis, Mylos and the Ionian Sea.
Each Villa consists of 2 levels. Ground floor 75 sq.m. and 1st floor 75 sq.m. /
On the first level, there is an open space, a kitchen-living room, a bathroom, and two bedrooms.
The second level has an open space, kitchen-living room, a bathroom, and two bedrooms with their own balconies and wonderful views of the Ionian Sea.
The imposing internal staircase communicates with both levels. Still, it can also be isolated from the 1st level (ground floor), so we have two autonomous levels or a single that makes the villa very functional.
In case of rent, it can be rented as an independent villa or as two independent apartments.
The surrounding area is spread over 2 levels and each level has a communal pool.
The complex has a parking lot for 20 cars, landscaped ramps for people with disabilities and its own drilling.
The villas are available fully equipped and furnished.
The layout of the spaces, the location just 1.5km from the center of Lefkada and the unrestricted view of Lefkada and the Ionian Sea make this villa complex an ideal choice for investment.
Rooms 72
Bedrooms 24
Bathrooms 24
External size 4,100 m²
Size 900 m²
Villas for Sale Lefkada Greece, Hotel for Sale Lefkada Island.
VIDEO: Beautiful Beaches of Lefkada Island Ionio Greece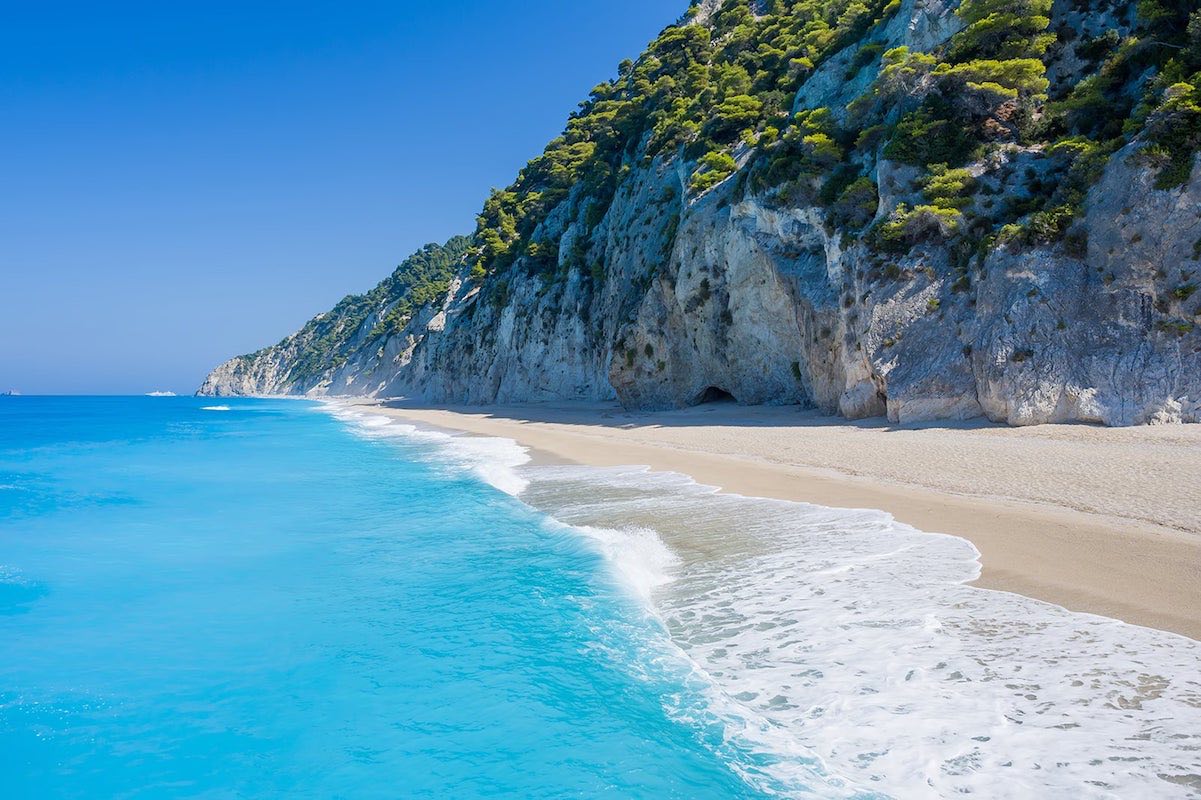 The Ionian island Lefkada is the nearest one to the western side of the Greece mainland and it can even be reached by car, via a bridge!
One of the most popular Ionian destinations, full of amazing beaches with turquoise waters, monasteries, museums and seafront or mountainous villages with a unique charm.
The nearest airport to Lefkada is Aktion National Airport.
Known for the amazing landscape and the exotic water, beaches in Lefkada are considered among the most beautiful in Greece but also in the Mediterranean Sea.
Surrounded by amazing coasts, most of Lefkada's beaches have been awarded the Blue Flag for their cleanliness and are famous for their beautiful scenery.
The coasts of Lefkada is a true paradise, for lovers of sandy beaches and pleasant greenery while being ideal for snorkeling.
Meganisi is a picturesque island of the Ionian sea, 4 nautical miles southeast of Lefkada.
The traditional architecture,  the magnificent sceneries, the picturesque bays with the fish taverns, the restaurants and entertainment shops, the splendid view, the green landscapes, and the crystal waters, create an ideal place.