Lefkada, Ionian, Greece
For Sale
2,900,000€ - Luxury Villas Greece, Villas for Sale Greece
Amazing Seafront Villa Lefkada Island Greece
Seafront Villa Lefkada Island Greece for sale, Luxury Villa Lefkada Greece
Modern, seafront estate epitomizes a successful blend between the natural environment of surrounding olive groves, lush green mountains and views of the Ionian Sea
A dazzling residence designed with a light touch
An unmatched natural paradise offers exclusive privacy to its residents while being just steps from the sea.
The ultimate in seafront luxury.
Unique 4700 square meter property located at the edge of the turquoise blue water of a beautiful Bay in Lefkada with its private sea access,
Choice of the 2 swimming pools that the property has to offer.
The one pool makes this property simply unique with access from the open living area on the 1st level terrace. The other pool is located down by the waterfront with its design specifically suited for children as the depth does not exceed 1.6 meters.
Guarantees absolute privacy and serenity.
On the ground level of the villa through the front entrance is the main living area which consists of a fully equipped kitchen, dining area, and lounge. This area is one of a kind as it has a full-length window pane that opens up to the terrace pool, offering plenty of space for dining or just laying around to enjoy the panoramic view.
On the ground level of the villa, you will find three double bedrooms. Two of the bedrooms share a bathroom with the other bedroom having an en-suite bathroom. There is also an additional WC. The 1st level of the villa is separated into two rooms with one acting as a double bedroom and the other with the option as a sitting area or additional bedroom, depending on the number of guests. On the 1st level, there is also another bathroom.
The nearest airport is Aktion Airport, 55 km from the property.
Seafront Villa Lefkada Island Greece for sale, Luxury Villa Lefkada Greece
VIDEO: Beautiful Beaches of Lefkada Island Ionio Greece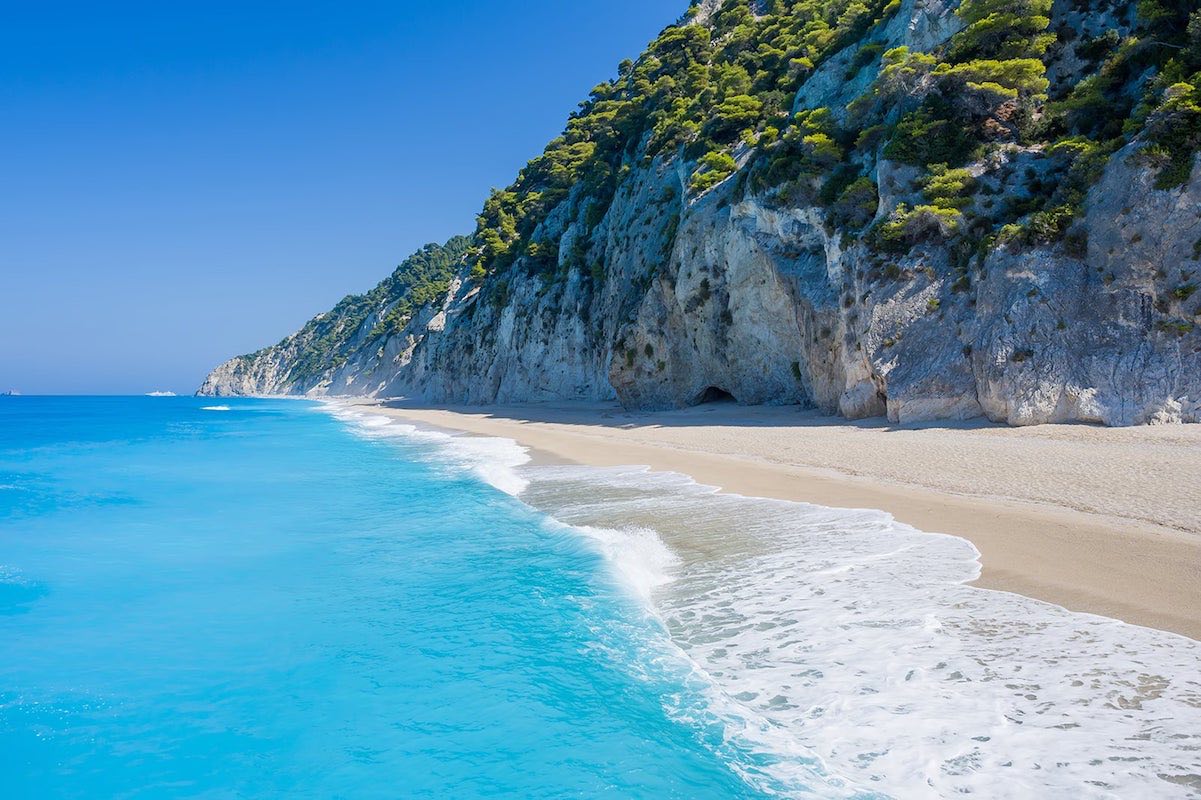 The Ionian island Lefkada is the nearest one to the western side of the Greece mainland and it can even be reached by car, via a bridge!
One of the most popular Ionian destinations, full of amazing beaches with turquoise waters, monasteries, museums and seafront or mountainous villages with a unique charm.
The nearest airport to Lefkada is Aktion National Airport.
Known for the amazing landscape and the exotic water, beaches in Lefkada are considered among the most beautiful in Greece but also in the Mediterranean Sea.
Surrounded by amazing coasts, most of Lefkada's beaches have been awarded the Blue Flag for their cleanliness and are famous for their beautiful scenery.
The coasts of Lefkada is a true paradise, for lovers of sandy beaches and pleasant greenery while being ideal for snorkeling.
Meganisi is a picturesque island of the Ionian sea, 4 nautical miles southeast of Lefkada.
The traditional architecture,  the magnificent sceneries, the picturesque bays with the fish taverns, the restaurants and entertainment shops, the splendid view, the green landscapes, and the crystal waters, create an ideal place.