Moutsouna, Naxos Greece
For Sale
1,500,000€ - Luxury Villas Greece, Villas for Sale Greece
2 Seafront Detached Houses Naxos Island
Seafront Detached Houses Naxos Island, Seafront Property Naxos Greece for sale.  Properties in Greek Islands
Property in Cyclades, in Naxos island of Greece, only 30m from the sea, in the area of Moutsouna in Naxos.
The property consists of 2 villas, 215 sq.m. each, on a plot of 8,040sq.m.
Each villa consists of the main house that offers a living/dining area, an open plan kitchen, 2 bedrooms, 2 bathrooms and a WC. Additionally, there are 2 guestrooms, both of which consist of a living area with an open-plan kitchen, 1 bedroom and 1 bathroom.
Each villa has got a surrounding area of about 4,000sq.m., landscaped, with plenty of local trees.
The house has easy access to the small private beach, private ground, a separate entrance and access to the public road.
It is located in a picturesque coastal setting each with a very large garden and private beach, combining the benefits of space and privacy, but also close enough to the centre of Moutsouna to enjoy the amenities and local tavernas.
Seafront Detached Houses Naxos Island, Seafront Property Naxos Greece for sale.  Properties in Greek Islands

VIDEO: Τhe gorgeous beaches of Naxos Island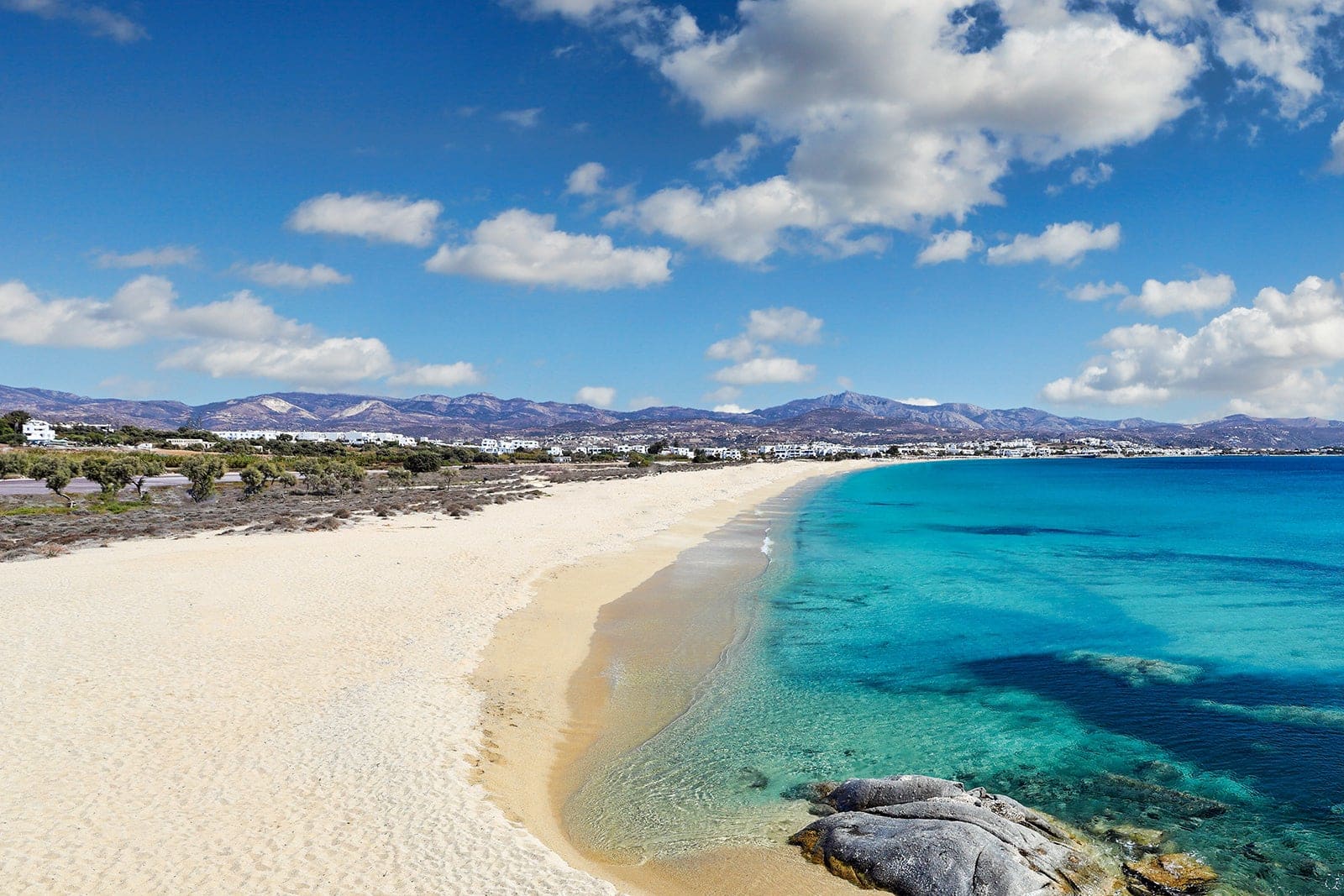 Located in the middle of the Cycladic complex of islands in the Aegean sea and between the popular destinations of Paros and Mykonos, lies Naxos, the largest island of the Cyclades.
Amazing beaches with shallow waters –Easy to get there by plane or ferry.

Because of its central location within the Cyclades, you can travel to Naxos both from Athens and from other islands effortlessly, with the island being accessible by ferry from Santorini, Mykonos, Paros, Amorgos, and Koufonisia.The airport of Naxos, 2km away from Naxos Town, operates domestic daily flights from Athens' airport Eleftherios Venizelos.
Delicious food, inviting people, stunning landscapes, family-friendly beaches, and a peaceful serenity spread across the island
Features