Loutraki, Greece
For Sale
870,000€ - Villas for Sale Greece
Villa for Sale at Loutraki
Country villa of 509 sq.m. at Loutraki for sale,
2 living rooms, 3 kitchens, 6 bedrooms, 2 bathrooms, 3 WCs, set over 3 levels
3 parking spaces (1 in the basement and 2 uncovered), storage space
Airy, front, bright, 1.400 sq.m. plot of land, panoramic view
Additional features: playroom, garden, pergola, BBQ, marble floors, aluminum frames, individual heating with heating boiler (oil), fireplace, energy efficiency class A+, built in wardrobes, recently painted, air-condition, satellite antenna, solar water-heater, boiler, alarm, security door, double pane windows, window screens, awning, elevator, pets allowed
Close to transport: public road transport, bus
Other Office Sale it 1.300.000 euro (!). See their adv: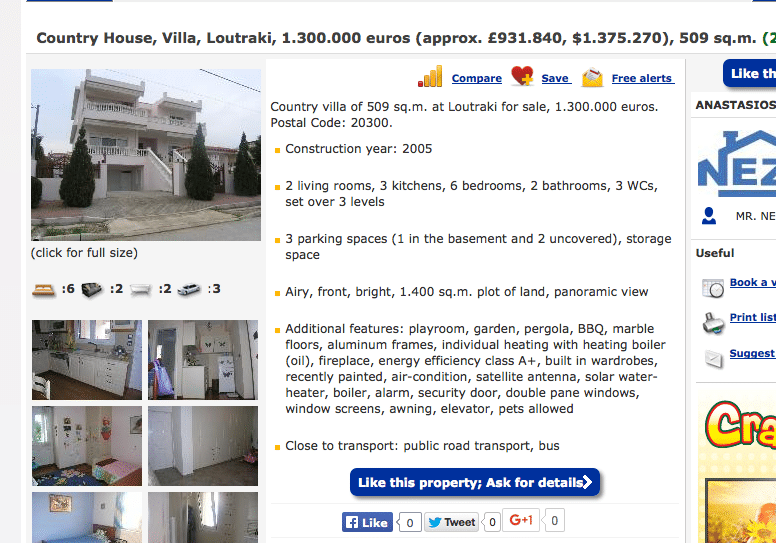 About Loutraki Corinth:
Loutraki is internationally renowned spa, therapeutic station and tourist resort, situated on the northern cove of the Corinthian Gulf, famous for its healing mineral waters and of course, the rare natural environment. The water of life "as aptly described, is a symbol for Loutraki, since its therapeutic properties and its beneficial effects are known through the ages.
   The ideal location of Loutraki, which combines the crystal blue sea, beautiful beaches and the mountains and fir forest and lush vegetation that reaches the beaches, it offers unlimited possibilities for excursions, since geographically it is located in a prime position in Greece. lies in the fact that it is very close  distance from Athens. The temperate Mediterranean climate, the crystal clear sea and beautiful beaches, which then awarded since 1987 to the "BLUE FLAG OF EUROPE" and the lush pine forest of Gerania that unfolds around it, combine the unparalleled image. Prolonged sunshine that prevails in the region throughout the year, and the lack of moisture, highly favorable health tourism and natural way reintegration.
  Loutraki lively spa is not only one of the most ideal holiday destinations, but also a suitable place of residence, Loutraki is a core culture. And developed as hotel units of all categories and a multitude of pension is ready to receive during the entire time, and especially in the summer, thousands of visitors to the famous resorts. Proper nutrition is assured thanks to a lot of good restaurants and tavernas where you can enjoy delicious fresh fish or anything else you wish. Lovers of the sea, they discover in Loutraki a paradise with ideal conditions for swimming, surfing, fishing. Even tennis, basketball, volleyball, exist to complete the cycle of natural healthy holiday with sport. And certainly opportunities for entertainment and shopping, are limitless. A large number of shops, boutiques, jewelry shops, galleries, cinemas, bars, Disco, and nightclubs are offered for all ages and all tastes. Another emotion: the No. 1 CASINO Europe. The CASINO Loutraki. At the luxurious and comfortable environment, the visitor can experience the favor of the goddess Tyche.