Kalithea, Rhodes, Municipality of Rhodes, Rhodes Regional Unit, South Aegean, Aegean, 85100, Greece
For Sale
2,300,000€ - Luxury Villas Greece, Villas for Sale Greece
Prestige Villa in Rhodes Greece
Prestige Villa in Rhodes Greece for sale, Great Villa Rodos Greece, Rodos Real Estate. Exclusive Villas for Sale in Greece
A famous Greek architect was in charge to build this outstanding private residence as a combination of modern style, delicate luxury, and traditional Greek architecture.
The villa offers 450 sqm of contemporary style, bright and spacious living accommodation, laid out on two floors.
The gorgeous estate, set in wonderful landscaped gardens with panoramic views to the hills and the sea, is the ideal holiday hideout on the outskirts of the city of Rhodes.
Downstairs there is an open, fully equipped kitchen, comfortable living and dining area and a south-facing bedroom, with en-suite bathroom.
The living area offers a beautiful view to the terrace and enticing swimming pool.
Upstairs, you can find another en-suite master bedroom. A few meters from the main house, there is an independent guest suite which features an independent terraced area. Additional benefits to this unique property are a double garage, extra storage rooms and underfloor heating/cooling and energy efficient photovoltaics.
Furthermore, the villa offers a big pool, a BBQ zone, an outside dining area and a lot of other luxurious features inside and outside the house.
In May 2019 the Villa was recognized as a top villa as reviewed by travelers on the world's largest travel site, Traveller's Choice for the 3rd time in a row.
Prestige Villa in Rhodes Greece for sale, Great Villa Rodos Greece, Rodos Real Estate. Exclusive Villas for Sale in Greece
VIDEO: Have a look of the island of Rhodes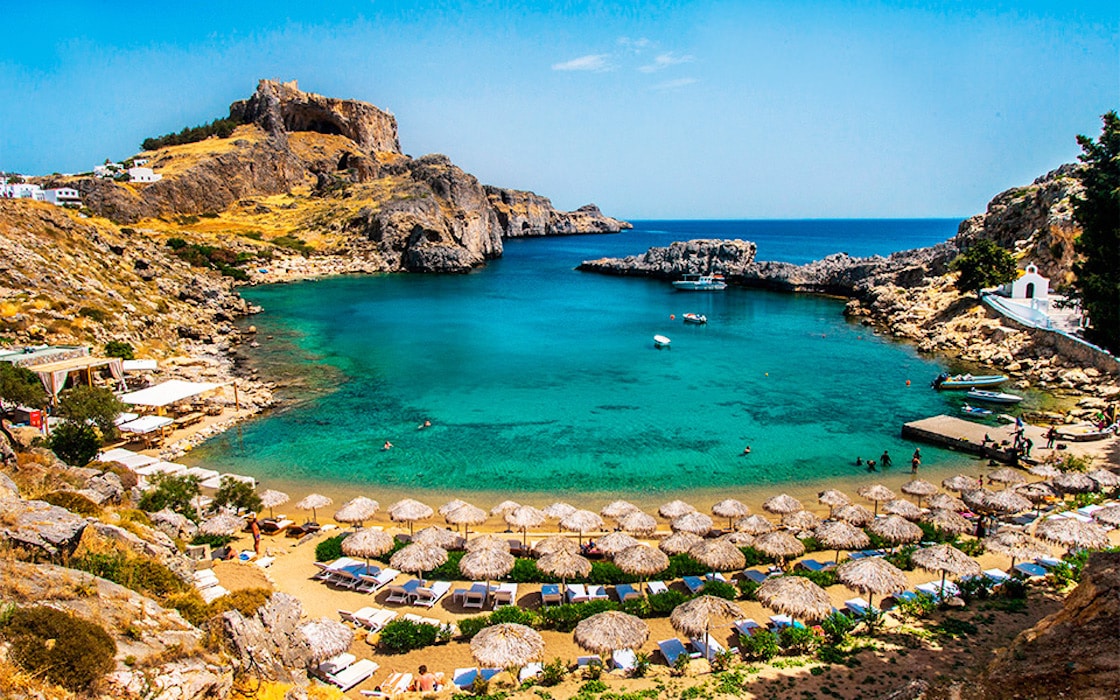 Rhodes island definitely is a first-class destination for your amazing summer escape.  Historically, Rhodes was famous worldwide for the Colossus of Rhodes, one of the Seven Wonders of the Ancient World. The medieval Old Town of the City of Rhodes has been declared a World Heritage Site. Today, it is one of the most popular tourist destinations in Europe.
Rhodes has it all: beaches, nightlife, beautiful landscapes, great hotels, historical monuments, cosy restaurants and an exceptionally mild and pleasant climate. Other than its natural and historical value, Rhodes receives a huge number of visitors every year also because of its extended summer season due to the warmer climate compared to the rest of the country.
Features