Corfu, Greece
For Sale
60,000,000€ - Hotels For Sale Greece
5* Amazing Waterfront Hotel at Corfu
Hotel of 259 rooms (170 main building + 89 bungalows)
The following is a detailed breakdown of all room types:
37 Double Garden View
22 Double Garden View Pool
72 Double Bay View
56 Double Sea View
22 Double Sea Front
13 Superior Double Sea Front
8 Family Bay View
5 Family Sea Front
15 Family Garden View
1 Deluxe Suite Sea View
4 Junior Suite Sea Front with Pool
2 Executive 2 Bedroom Suite Sea View
1 Executive Suite Sea Front with Pool
1 Presidential Suite with Pool
The hotel is built in a plot of 35000 m2.
The total building space is 15000 m2.
All the rooms are spacious and have the following amenities:
· Direct Telephone Line
· Hairdryer
· Bathtubs or showers in all rooms
· Satellite Television
· Mini Bar
· Safety Deposit Box
· Balcony or Terrace
· 28 rooms have Private Swimming Pools
. Wireless Internet
. Central Heating or Air-conditioning
The hotel offers the following facilities:
· 4 restaurants: one main restaurant (buffet), two A La Carte and our beach taverna
· 1 Main Bar
· 1 Beach Bar
· 1 Main Pool (400 m2)
· 2 Spa Pools (200 + 80m2)
· Newly Built Wellness area – SPA & GYM
· Tennis Court
· Mini Club Playground with Pool
· Mini Market (leased)
· Jewelry store (leased)
· Business center
· Games Room
Net Turnover 2016 approximately 8,4 million euros
Net Turnover 2015 approximately 7,9 million euros
Net Turnover 2014 approximately 7,5 million euros
Gross Operating Profit 2016 3,2 million euros
Financials: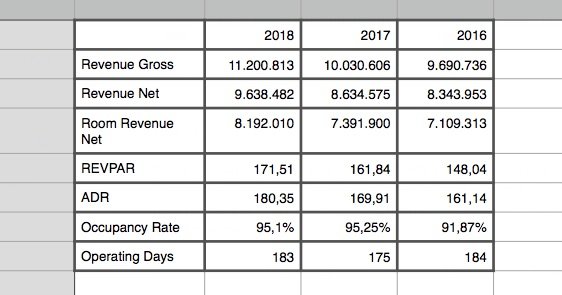 The Island In Brief

Corfu is the second largest island of the Ionian sea after Kefalonia and it lies just 60 nautical miles east from the heel of Italy and a few kilometers due west from Igoumenitsa, the closet point to mainland Greece. At 64km long and 32km wide at its widest point, it is large enough to sustain a permanent population of 110,000 people and an astonishing 3-4 million olive trees.
Throughout its history, it was desired for its geographical location, abundant wood, food and water, making the island a vital port between Greece and Italy. Its beauty and mild climate made it an attractive place to live, which explains why so many famous people chose to live here.
Today the island is invaded by hundreds of thousands of visitors every year for the very same reasons, but with very different intentions. Life is just so very pleasant and the environment so clean (at least compared to modern cities) that it makes this island one of the very best places in the World for one who wishes to escape from the madness of the fast moving world and combine relaxation with entertainment