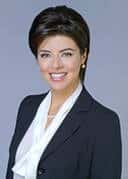 Irina Genyuk came to residential real estate sales after eight years as a practicing attorney, which allows her to deliver superior customer service at a world-class level. She realized her passion for real estate through her personal experience owning a number of primary, vacation and rental properties in the U.S. and Moscow, Russia.
Fluent in English and Russian, and an enthusiastic beginner in French, Irina came to New York in 2007 from Moscow and worked as a UN translator. She takes pride as a contented resident and homeowner in a city she loves for its distinctive architecture, dynamic environment, strong cultural diversity and storied history.
Her strong negotiating skills, financial savvy and personal approach made Irina a trusted and talented real estate agent, whose foremost responsibility is to be a fiduciary and advisor for her clients. Being extremely customer oriented and disciplined, she will put your goals and needs first, and protect your interests at all times whether you are in the market to buy or sell property.
Irina Genyuk
Licensed Real Estate Salesperson
575 Madison Avenue
New York, NY 10022
---
Send a Message